Gilles Vranckx
Designer, Illustrator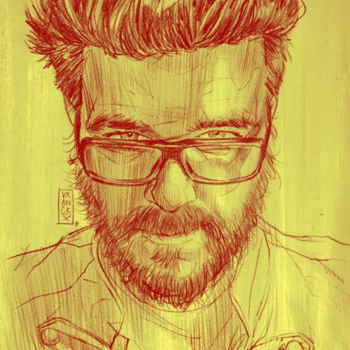 Gilles Vranckx (1975) is an artist from Brussels, Belgium. He has studied for graphic designer, animation and comic artist.
His influences range from Ashley wood, Kent Williams, Mike Allred to Rene Gruau, Edward Hopper and old 50′-60′ ads.
Gilles Vranckx works a lot for Mondo Macabro and Arrow Films. As an illustrator with a great passion for film, this is an ideal match. When he started working for Arrow Films he was often asked if he wanted to do the design for a giallo film. Despite the fact that giallo films are not his favorite. When Gilles was told that Arrow Video was going to release David Cronenberg's film 'VIDEODROME', which is one of his favorite films. He wanted to do the design voor this release. "It's my thing, my baby" he told Arrow.
Gilles is still 'typecast' as the right man for the giallo posters' this probably has also something to do with the designs he made for the film posters of 'LAISSEZ BRONZER LES CADAVRES' and 'AMER' directed by Hélène Cattet and Bruno Forzani.
Besides watching films, what is one of his favorite activities and inspiration. Gilles is also a film programmer for the Brussels 'Offscreen Film Festival' and also performs as a DJ on weekends.